Delivering Practical, Cost-efficient Legal Solutions
At Ashdin Law, our legal team understands the unique challenges that businesses just like yours face. We will work with you to find practical, cost-efficient legal solutions for your business. This includes initial business structuring, purchase and sale, tax planning, corporate governance, project execution, and domestic and international structuring.
Why Hire Us?
We're glad you asked! As Port Coquitlam lawyers, we're local, for starters. Our clients appreciate the convenience of having a legal team right in their backyard. There's no need to deal with the stress of driving into the city or worrying about the cost of parking. There are also no overhead costs. Instead, we're right where you live, work, and play. Centrally located with easy access to transit, and ample parking, our team of Port Coquitlam lawyers are only a short drive away from Port Moody and Coquitlam.
We're also an active part of the Tri-City community. Did you know we have been named the A-List Winners for Favorite Law Firm in Port Coquitlam by the Tri-City News four years in a row? Also, our very own, Ish Lila, was named the 2019, 2020, 2021 and 2022 A-List Winner for favourite lawyer in Port Coquitlam!
Meet the Team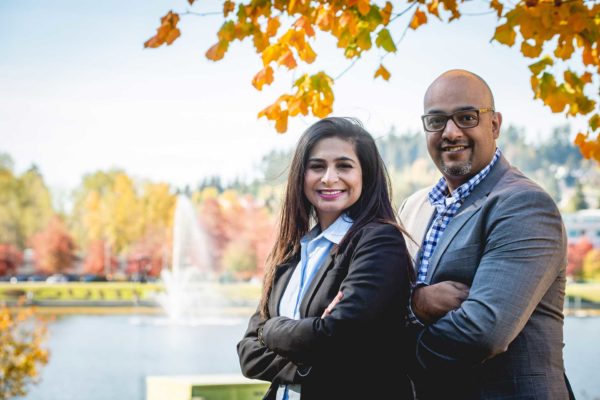 Ish is fifty percent of the husband and wife legal team behind Ashdin Law. Ish alone has more than 18 years of legal experience. He's worked with small businesses and multinational organizations alike.
With a background in Canadian and international tax, corporate law, estate planning law, accounting and financial planning, Ish brings a unique perspective. He also provides an integrated legal approach when representing clients. Ish has advised hundreds of clients through reorganizations, tax planning, and other corporate transactions. He's a straightforward guy, always explaining everything in a way you can understand. This transparency builds trust, which is essential to a successful client lawyer relationship, which is why we're a Port Coquitlam lawyer of choice.
At Ashdin Law, we don't just document the transaction. We work with your business advisors in a collaborative way to make sure that everybody is on the same page. Our clients benefit from Ish's tax experience and financial background, with every detail being considered and thought through before putting pen to paper.
Ish's better half, Shelina (Shelly) Lila's practice, focuses on assisting clients with estate planning and personal planning. She ensures all of your legal business needs and personal needs are taken care of including Wills, Trusts, Powers of Attorney, Representation Agreements, and Advanced Directives.
Whether your business requires representation for a single transaction or ongoing services, Ashdin Law can provide the assistance you need.
If you're searching for experienced, family oriented and cost effective Port Coquitlam lawyers, give our office a call today.
Our Team